Guided selling is no longer just a fancy, nice-to-have feature. It has become a mandatory asset for businesses that want to attract, satisfy, and retain customers. Given the dizzying array of products and services and the rising complexity of the buying process, several businesses invest into Guided Selling to remove friction, educate buyers, direct them to the products or solutions that are right for them, and ultimately, increase conversion rates.
Wikipedia offers a great general definition: Guided Selling is a process that helps potential buyers of products or services to choose the product best fulfilling their needs and hopefully guides the buyer to buy.
But what do the experts say? What are good ways to help shoppers make purchase decisions? And, how is Guided Selling influencing the purchase decision process?
We've asked 12 e-commerce experts. Here are their answers.
1. Eugenio Cassiano – VP Global Accounts Europe, SAP Hybris
HOW CAN / DO YOU HELP SHOPPERS MAKE PURCHASE DECISIONS?
Create a great differentiated customer experience
"I'm considered part of generation X (born before 2000), and our generation has grown together with technology disruption. The new generation (the Smart Consumer or generation Y and Z), has a lot of information available at their fingertips and is connected every-time and everywhere. The most important thing for a shopper is the feeling of the Magic Moment. With the introduction of digitization and online shopping, most retailers have lost the touch with the shopper and that's why creating a great customer experience is really important today. This Smart Consumer needs a differentiator to stay connected with your brand and that differentiator is 'You are special to me so you need to feel engaged every time we interact with each other'. If this differentiator is not there, consumers will not stick around. Guided Selling is a strong ingredient of that famous Magic Moment."
HOW IS GUIDED SELLING INFLUENCING THE PURCHASE PROCESS?
Offering tailored advice and recommendations
I remember when I was a boy – me and my dad used to shop at the same consumer electronics retailer every single time. Why? We felt that we were treated with empathy and well advised. That's why today's Phygital shoppers (running on digital channels but still on physical stores) should be provided with an experience that includes the Magic Moment, which is based on 'I know you and I can recommend what really matters for you'. Guided Selling is basically answering the paradigm on 'I go to that store because there is a good salesman who knows exactly what I need and will give me the right directions'."
---
2. Jordan Garner – Director of Marketing, Trustpilot
Trustpilot | LinkedIn | @Trustpilot
HOW CAN / DO YOU HELP SHOPPERS MAKE PURCHASE DECISIONS?
Integrate consumer reviews
"According to a recent survey conducted by Trustpilot, 88% of consumers say reviews help when deciding what to buy and who to buy it from. While the decision to purchase is ultimately the consumer's, Trustpilot's offering of more than 20 million consumer reviews from 130,000 businesses, consumers have a vast array of reviews to look to when deciding which product to purchase to make the most informed decision."
HOW IS GUIDED SELLING INFLUENCING THE PURCHASE PROCESS?
Helping consumers make informed decisions while saving time
"Since Guided selling software provides retailers and businesses the algorithms to find more out about the consumer and recommend items based on their personal needs, consumers now have recommendations at their fingertips. It can be a great time saver for someone who doesn't have the time to research a product or retailer, but it's important to know who you're buying from. We recommend that all consumers should feel comfortable with who they're buying from before making that decision."
---
3. Markus Linder – CEO and Co-Founder, SMARTASSISTANT
SMARTASSISTANT | LinkedIn | @markuslinder
HOW CAN / DO YOU HELP SHOPPERS MAKE PURCHASE DECISIONS?
Put the customers' needs first
"The path to purchase should be designed as hassle-free as possible during all stages of the purchase decision process – for every shopper. Provide sound product data and comprehensive product information, clear product images, a sophisticated search function, dynamic and site-wide product comparison features, and need-oriented, interactive product advisors. Because, not every shoppers knows exactly which product they want when they arrive at your store. The most important tip however, is to consider the shoppers' needs at all time."
HOW IS GUIDED SELLING INFLUENCING THE PURCHASE PROCESS?
Reducing complexity and increasing the shopper's decision confidence
"Just imagine buying a camera online. If you're not an expert in the field, it's easy for you to get overwhelmed by the myriad of different options. While you probably wouldn't know if you needed a D-SLR, a mirrorless, a bridge camera or a simple point-and-shoot, you'd know how you wanted to use the camera. Guided Selling reduces the complexity and increases the decision confidence. It walks the customer through a series of questions and recommends the most suitable product based on identified needs, wants, and preferences — just like any helpful salesperson would do. Online shoppers can make more informed decisions and businesses can provide frictionless experiences that help them become the go to source for a shopper's future purchase decisions – the #1 Point of Decision."
---
4. Esamatti Vuolle – Architect, Customer Experience, DNA Oy
DNA Oy | LinkedIn | @esamattivuolle
HOW CAN / DO YOU HELP SHOPPERS MAKE PURCHASE DECISIONS?
Speak the customer's language
"At DNA Oy, we help customers narrow down their choices to the most suitable product options. Together with a customer, we find out what their real needs are and show them how we can cover them. We simplify our offering by giving customers information in a comprehensible way. Many customers don't want to know all specifications and technical details about cellular phones and mobile services. We serve information in the customer's language, without technical jargon."
HOW IS GUIDED SELLING INFLUENCING THE PURCHASE PROCESS?
Making customers feel understood
"Customers want to know that they're making the best decision before closing the deal. They have lots of information and are more empowered than ever. They have the power and privilege to choose services and providers that precisely meet their requirements. Winners in the competition for the customer are those who are able to deliver the right services and products to customers in the most understandable way. Guided Selling helps make customers feel that they are understood."
---
5. Will Lockie – Fmr. Programme Head – Multichannel, Evans Cycles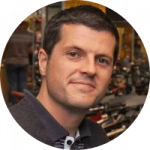 HOW CAN / DO YOU HELP SHOPPERS MAKE PURCHASE DECISIONS?
Focus on utility and usefulness
"Catering for the online customers who are in the early stage of research is not easy – content can go some way to do this in the form of buying guides or how to videos, then user generated reviews are a step up once you are drilling down to product level. But there is little in the way of real 'usefulness' or 'utility' to help the customer who doesn't know what they want or need to narrow down choice quicker."
HOW IS GUIDED SELLING INFLUENCING THE PURCHASE PROCESS?
Making shopping easier and preventing frustrating shopping experiences
"Guided selling isn't necessarily changing the way people shop but it is definitely making it much easier for people to shop, get instant advice or product recommendations quicker. It makes the basic shopping process of narrowing down choice to a shortlist of potential products much easier. Guided selling is one answer to the digital challenge and can really allow brands to help customers navigate complicated product categories quicker, and so reduce frustration or uncertainty in the shopping experience."
---
6. Larissa Pickens – Owner and Creative Director, Float.Design

HOW CAN / DO YOU HELP SHOPPERS MAKE PURCHASE DECISIONS?
Recommendation quizzes, Live Chat and Reviews
"As a web designer, I get to help clients with a range of techniques to guide customers — these are the top three that I've seen:
– Recommendation quizzes. These can be very engaging, creating an element of fun and discovery.
– Live Chat which can help answer questions and objections in real time and can be very useful for more complex offerings.
– Reviews are a wonderful way to let customers help each other. Let users sort by relevant information to find what someone similar to them said about it. For instance, for clothing brand, age, location and body type would be important when deciding which reviews are most applicable to your situation."
HOW IS GUIDED SELLING INFLUENCING THE PURCHASE PROCESS?
Helping consumers make more informed purchase decisions
"I work with a lot of beauty and cosmetics clients and in this vertical, 80% of sales still occur in retail stores. However 95% of customers say they've researched their beauty purchasing decision online. Guided selling online is a valuable tool to shape their decision making process, even if their final sale is occurring in a store. In general, there's a lot less uninformed purchasing, with consumers researching everything from toothpaste to cars."
---
7. Jonathan Lay – Senior Digital Marketing Advisor, CU Grow
HOW CAN / DO YOU HELP SHOPPERS MAKE PURCHASE DECISIONS?
Consider the consumer's perspective
"In the financial services space, Bankrate.com found that approximately 80% of consumers start their research for banking products online. And Google found that consumers are using around nine different sources of information to help them make a purchase decision. People are looking for help and are researching online. But how many times are you evaluating your product offers and online messaging from the perspective of the consumer? A quick approach would be to simply address who a particular product is for."
HOW IS GUIDED SELLING INFLUENCING THE PURCHASE PROCESS?
Simplifying complex offerings
Guided Selling can help reframe complex product offerings and help you begin to simplify them for consumers who are in the consideration stage of their buying journey. This advice can be built around life stage, specific consumer questions a product answers, or general demographic data. A more robust approach would be to develop a binary quiz. If you have multiple, similar product offerings with varying features, a quick four or five "yes/no" question quiz developed around these different features can provide consumers product recommendations based on their responses.
---
8. Nancy Nardin – Founder & Editor, Smart Selling Tools
Smart Selling Tools | LinkedIn | @sellingtools

HOW CAN / DO YOU HELP SHOPPERS MAKE PURCHASE DECISIONS?
Keep it simple and reduce choice overload
"The most important thing for any seller to do in order to help their shoppers choose is to reduce complexity and boost buying confidence. In The Paradox of Choice, author and psychologist Barry Schwartz, illustrates how having too many choices leads to complexity and how complexity leads to inaction. It's wonderful to offer a lot of choices, but know that too many choices can result in fewer purchases, and sometimes worse—no purchase at all. There are ways to mitigate this effect, however. Keep it simple. One of the best ways to keep it simple is to break the choices down to bite-sized chunks. Are you looking for men's clothing, or women's? Are you looking for women's coats or women's dresses? Are you looking for casual dresses or cocktail dresses? This is a basic categorization approach. And it helps the buyer find what they're looking for.
However, If you offer more complex products, you'll want to quickly move from categorization questions to use-case questions. For example, let's say you sell sports equipment. You might start by asking a simple categorization question, "What sport are you interested in." Customers know enough to answer e.g. tennis, exercise equipment, golf. Once you know that they are looking for exercise equipment, there are two approaches; continue with categorization questions, or ask probing questions. In the first case, you could ask if they're interested in a treadmill, or a stair-climber. In the latter case, you could ask questions like, "how much floor space do you have?" or, "do you need something that can be stored in between use?" These are probing questions. that help buyers think about what's important to them. It boosts buying confidence. When people feel confident in their ability to make a wise choice, there's a higher likelihood of a purchase. When they feel insecure about their decision, there's a lower likelihood. Guided Selling works with either of these approaches."
HOW IS GUIDED SELLING INFLUENCING THE PURCHASE PROCESS?
Delivering the best self-service experience and boosting buyer confidence
"Guided selling paves the way for a number of things to happen. First, more buyers can self-serve which reduces the cost of sales. If they can easily find what they're looking for, they won't need to call your phone bank. Next, it reduces complexity making it easier for buyers to make a purchase decision which in turn makes them feel better about the decision. It also serves to boost buyer confidence as noted above. And finally, it provides a better customer experience. If the buyer leaves your site without making a purchase, he or she may never come back again. If you've provided a great buyer experience, not only are they more likely to buy, they may also be more likely to come back later even if they don't buy.
Back in 2011, Google introduced the concept of the Zero Moment of Truth, or ZMOT, which describes the precise moment when buyers have a need, intent or question they want answered online. That's really what Guided Selling is all about, providing the best buyer experience at the ZMOT. A brand that helps buyers at just the right time improves the purchase experience and helps sellers gain a competitive advantage over those that don't."
---
9. Isaac Hammelburger – Senior SEM Strategist, WebbMason Marketing
WebbMason Marketing | LinkedIn | @IsaacHammelB
HOW CAN / DO YOU HELP SHOPPERS MAKE PURCHASE DECISIONS?
Know your customer inside out
"A lot about helping your customers choose the best products for them is making sure that you know your customer inside out. You need to know what's important to your customers, are they the type to look at price first, color or specs. Use heat mapping to see where your users navigate to on your category page when refining their searches. Once you know that, you can build a website with that in mind. If they're the type to check the lowest prices, make sure that they can easily sort by lowest price, or even have that be the default setting on the page."
HOW IS GUIDED SELLING INFLUENCING THE PURCHASE PROCESS?
Keeping customers on your site
"Guided Selling plays a big role in keeping customers on your site. Every day, ecommerce stores are losing thousands of dollars because customers are deliberating and end up leaving your site because they have a question or momentary hesitation about the product."
---
10. Matthew Mercuri – Digital Marketing Manager, Dupray
Dupray | LinkedIn | @Dupraysteam
HOW CAN / DO YOU HELP SHOPPERS MAKE PURCHASE DECISIONS?
Use videos to demonstrate a product's capabilities
"At Dupray, in addition to having detailed descriptions, high quality pictures and educational resources, we place a significant emphasis on video. From an e-commerce perspective, customers love seeing the items that they plan on purchasing before they actually take the leap of faith. Our YouTube channel has 100's of videos that address any image a customer has developed about our product. We demonstrate the capabilities of our product in a plethora of different settings and environments to really fulfill a consumer's expectation. Additionally, we help shoppers choose by informing them about how other shoppers feel. We do this via reviews. We show them honest opinions of product owners."
HOW IS GUIDED SELLING INFLUENCING THE PURCHASE PROCESS?
Keeping people engaged and aligned along the purchasing path
"Guided sellling changes the way people shop and decide by providing them with a path to conversion. Every single website has a subset of pages that are simply not efficient for the conversion process. Guided selling keeps people engaged with the products or services that you want to sell. It keeps them aligned along the purchasing path. If a viewer needs more information, guided selling puts them on a slight detour that eventually arrives back onto the same road."
---
11. Chloe Thomas – Author and Podcast Host, eCommerce MasterPlan
eCommerce MasterPlan | LinkedIn | @chloe_ecmp
HOW CAN / DO YOU HELP SHOPPERS MAKE PURCHASE DECISIONS?
Easy does it.
"When searching for products customers want it to be easy. "Easy" of course means different things to different people, but there are some key areas you need to have sorted out to make it "easy" for the majority of consumers.
First off your site needs to not be slow – otherwise they'll get bored / frustrated and go somewhere else. In a similar vein your site should be easy to navigate – don't hide the menus, or use unique product classification methods, it should be easy for someone on their first visit to get to where they want to go. That's the basics – then you get into personalisation / conversion rate optimisation / searchandising / dynamic merchandising. Whatever you choose to call it, the end goal is the same – to get the right product(s) in front of the customer as quickly as possible. These tools will automatically put product in front a customer based on their past interactions with your company (browsing, email opening, basket additions, as well purchases). Ideally their algorithm will take all of these into account. The very best will also help out first time visitors by showing best sellers, and best reviewed products to them.
Once you've got the customer to a product you then need to make sure that you're giving them all the information they could possibly need to make up their mind to buy. Size, colour, weight, material, and any other piece of product information you can think of. Plus, you need to offer them reassurance – have other customers bought this item? What did they think of it? (review scores and written testimonials). The more information (written or pictures) that you can give the customer about a product the more likely they are to select the right one for them. The final (?) icing on the cake is deploy a webchat box offering to help the customer with any further questions they may have."
HOW IS GUIDED SELLING INFLUENCING THE PURCHASE PROCESS?
Providing relevant recommendations
"The customer's experience of Guided selling used to be limited to the Amazon "other customers bought", but now it encompasses so much more. For starters it's not just about what's on the website – it's also feeding into the email marketing and advertising a customer sees about your business. The reason it's now creeping into everything is that it's finally reaching the point where it's normally producing relevant results! That's also why customers are now responding to it even more. They understand that it is a benefit to them, and there are several service specifically designed to put the customer in control – they allow the customer to fill in more about their habits, lifestyle and preferences. The impact of which is an increase in revenue of 10-30%, and a decrease in returns of 3-5%. Automated digital advice has a tangible impact on decreasing costs and increasing revenue."
---
12. Danica Jones – Marketing Manager, ConsumerAffairs
ConsumerAffairs | LinkedIn | @DYIAdventurer
HOW CAN / DO YOU HELP SHOPPERS MAKE PURCHASE DECISIONS?
Provide verified reviews, buyer's guides and how-to articles
"As a third-party review site, we offer all consumers the opportunity to write reviews about the brands listed on our site. The benefit of review collection is an authentic view of the customer experience. Verified reviews assure consumers that they can trust the evaluations to give more scope on the purchase. We also provide buyer's guides and how-to articles featuring expert reviews and guidance from third-party industry experts to offer more educational insight and help consumers learn about purchases they may be unfamiliar with. This helps them find the right product or service for their unique needs to lead to more happy outcomes."
HOW IS GUIDED SELLING INFLUENCING THE PURCHASE PROCESS?
Reducing dissatisfaction with a purchase
"Consumers are turning to digital advice to make smart decisions, and this self-education is helping to connect the consumer with the correct product or service for their need. The outcome is less wasted money and less dissatisfaction. With consumer-generated media and expert resources, the average consumer becomes the savvy consumer, and need loyalty now outweighs brand loyalty. Consumers are empowered today more than ever."
Conclusion
Shoppers want to make smart decisions. That's why Guided selling or digital advice plays such an important role in delivering the right level of advice and guidance to your customers. It helps reduce complexity, provides instant advice or product recommendations, ensures an intuitive and hassle-free path to purchase, and finally, supports shoppers to make more informed and confident decisions.